This adventurous overnight trek in Gunung Leuser National Park is the most popular option to discover and really experience the tropical rainforest of North Sumatra. During this two-day trek you will go deeper into the jungle, which doubles your chances of seeing orangutans up-close in their natural habitat.
First day 
Around 9AM, your English speaking, licensed guide will pick you up from your guesthouse in Bukit Lawang. From there you will walk towards the border of the Gunung Leuser National Park. The walk towards the park is already a great experience. There is a chance to encounter some monkeys, you will pass a garden and a rubber plantation. Your guide will explain about the animals and how rubber is made. Another 10 minute walk will bring you to the entrance of the park. From here you will start your jungle adventure.
During this two day trek you will have a great chance of observing a wide variety of wildlife, which your guide will point out to you. He will explain about all plant species and animals you will encounter in the rainforest. Animals such as orangutans, gibbons, Thomas leaf monkeys, Sumatran Great Argus, pigtail macaques, flying squirrels and hornbills. But you will also see beautiful species of trees and tropic plants.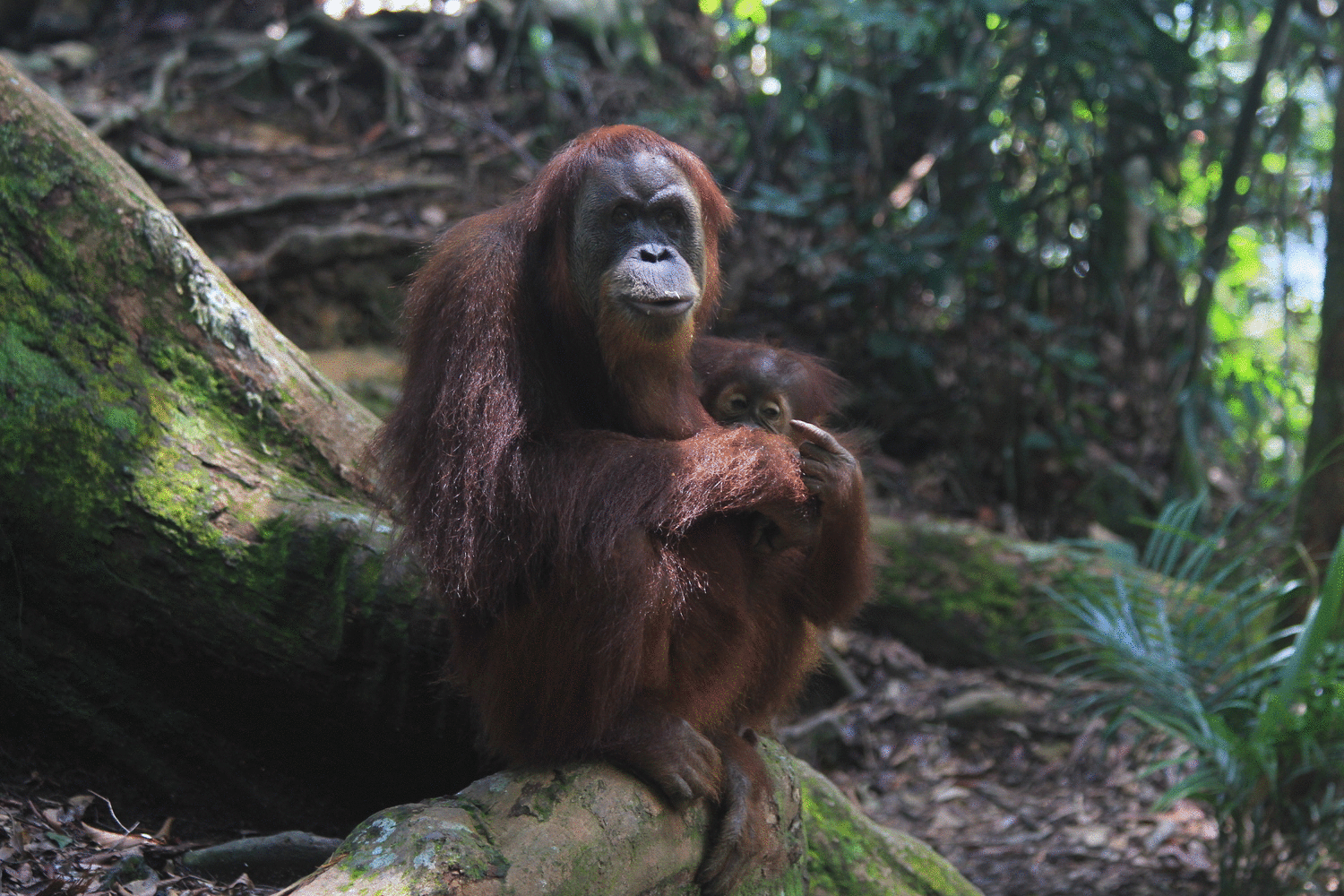 The main goal of this trek is to spot orangutans in their natural habitat. You can watch them play, go from tree to tree and observe them doing everyday activities. This gives you many opportunities to take amazing photos and an experience of a lifetime. You will be explained how orangutans live and survive.
During the first day of this trek you will walk around 6 hours. You will get many opportunities to catch your breath, to relax and enjoy the scenery surrounding you. During these breaks there will be fresh tropical fruit as a snack.
Half way your trek, your guide will bring you to have a fulfilling lunch in what we call 'the jungle restaurant', a place on higher ground which overlooks the jungle. After lunch you will continue your trek for around 3 hours more towards the campsite, while looking for more wildlife, more species of plants and trees. Around 4PM you will arrive at the campsite near the river where you will stay overnight. There is time to relax with a cup of coffee or tea, to go for a swim and rest while your dinner is prepared.
At night time you can enjoy a campfire cooked meal, consisting of several Indonesian dishes. After dinner there is time to play games, sit near the campfire and discuss your jungle experience. Being in the jungle at night time is a completely different experience; there are different animals, different sounds and of course a mesmerizing sky full or stars. You will spend the night in a tent made of bamboo and plastic sheets. Falling asleep and waking up to the sounds of monkeys, birds, insects and Bohorok River is an incredible experience.
Second day 
The following morning you will eat a campfire made breakfast and there is time to relax and take a swim. After breakfast you can either start your trek back to the village (around 3 or 4 hours), or relax, swim and enjoy your time at a nearby waterfall when chosen to go back by 'jungle taxi' (surcharge).
Also on the second day, a lunch is served. You will eat in the jungle on your way back to Bukit Lawang or at the waterfall before tube-rafting down Bohorok River.
Duration: Two days
Included: certified English speaking guide, fresh fruit, lunch 2x, dinner, breakfast, tent, blanket, permit to enter the national park
Tour price: Starts from €80 per person (optional: tube rafting €10 extra)
­Group size: Minimum 3 people
­Intensity level: Average
  What to bring: comfortable shoes, flip flops, one change of clothes, long sleeves sweater, towel, a large bottle of water, insect repellent, sun cream, swim wear, a torch and toilet paper


NOTE: 
If you want to do private trekking, you are required to pay for 3 people. If you are a solo traveller or a couple and do not wish to pay the price for 3 people, we can try to arrange for you to join with other groups.

OPTIONAL: TUBE RAFTING

On the second day of your jungle adventure it is possible to return to the village by what we call the 'jungle taxi'. The river will bring you back while sitting on a big tube. Tube rafting is a fun and exciting way to finish your tour through the jungle. For tubing, there is a surcharge of
€
10.